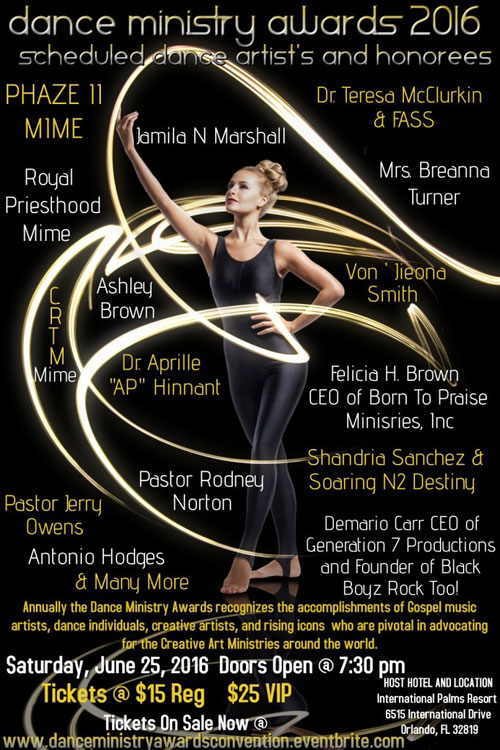 Dance Ministry Awards Show© -
The Dance Ministry Awards Showcase is the nation's premier event celebrating the outstanding achievements and performances of the art of dance as well as those individuals or groups who promote community equality through dance and the arts.
This prestigious Awards Ceremony recognizes dancers from Detroit Michigan to Puerto Rico.
The DMA Awards is an exciting, star-studded salute to the best in the dance industry. Honorees, presenters and performers have included many celebrities, entrepreneurs, rising icons, TV and radio personality in America as well as international luminaries. There are 22 categories in the arena of dance. There are also several honorary awards including the Legend of Dance Award, The Diversity of Dance Award and The Image Dance Awards Hall of Distinction.
Our vision has always been to unite dancers from diverse ethnic and culture backgrounds. It is our pleasure to invite you to be a part of our 10th Annual Celebration. Come and partake of the rich cultural experience of celebrating dance from around the world! One of the highlights of DMA'S will be the exciting Red Carpet Walk of Fame where DMA'S participants will engage the media. Radio, television, print and internet entities will meet, greet, photograph and interview performers and presenters. Our Award presenters will include the DMM/DMA faculty as well as celebrity guests and artists.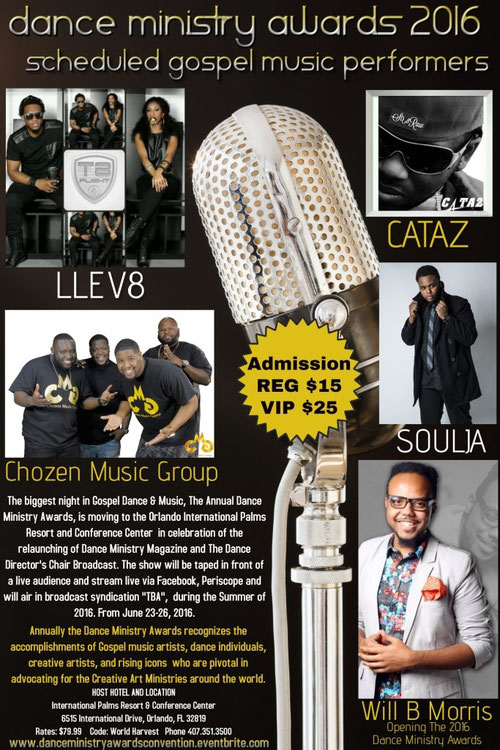 PURCHASE YOUR TICKETS NOW@ WWW.DANCEMINISTRYAWARDSCONVENTION.EVENTBRITE.COM
OR CALL 1.772.263.6989